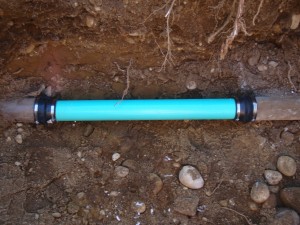 Are you concerned that your sewer line may need major repairs? Homeowners who have developed a relationship with their local Whittier plumber because he's been out to make repairs often may want to consider sewer pipe replacement. Here are a few benefits of taking this next step.
Fewer Plumbing Service Calls
How many times have you called the plumber in the last few months? If your plumber is the first number programmed into your phone, then it's time to consider other options. Sewer pipe replacement in Whittier may cost more upfront, but you won't be spending your money and giving your time to constant emergency repairs.
Your Home Is Protected
Every time the sewer line fails you are putting your home at risk of flooding and water damage. When sewage spills into your home, you not only have to pay to get a licensed plumber to make repairs. You also need to pay for water restoration services. Most people aren't prepared to deal with such unexpected costs. Don't go into debt because of sewer pipe failure. Get a faulty line replaced and stop playing Russian roulette with your home.
Sewer Pipe Replacement Protects Your Family
Sewer gas is hazardous. If it leaks into your home, your house is a risk of explosion and your family is at risk of exposure. Sickness and death can occur with prolonged exposure to sewer gas. Even if you only notice a small amount of raw sewage present in your drains, you need to call an emergency plumber in Whittier to assess the situation.
If you're ready to take the next step and want to talk more about sewer pipe replacement, contact Whittier AAA Rooter & Plumbing Co. We have a proven track record for finding practical solutions that make sense for our customers when it comes to sewer repair and replacement service. We're available 24/7 and can be to your home in 90 minutes or less. For guaranteed service with a smile, give us a call today!