Garbage Disposal Leaking? We Have Solutions!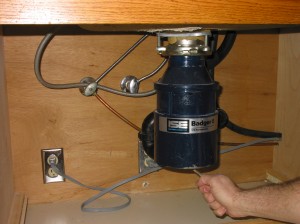 Today's modern kitchens are equipped with many time-saving appliances, and a garbage disposal is no exception. Unfortunately, when an essential appliance breaks it can make cleaning up more of an inconvenience. Every day we answer the phone and answer questions from concerned customers about garbage disposal repair. One of the most common questions we get is, "Why is my garbage disposal leaking?"
Luckily, we have plenty of answers!
Garbage Disposal Leaking from the Top
A disposal that leaks from the top is often because of a faulty or loose seal. Seals that are attached to the sink with putty may come loose after regular usage. Replacing the putty will typically fix the problem unless the seal is attached with screws. Some models are attached in this way. In this case, you'll need to call a Whittier plumber to help you reattach the seal.
My Disposal Is Leaking Under my Sink
This may not be a problem with the disposal as much as the pipes attached to the disposal. Sometimes these pipes may come loose and need to be reattached. There may also be a clog in the pipe that is causing the pipes to become misaligned. We suggest calling a plumber to come look at the problem and make the correct repairs.
Can You Always Fix a Leaky Garbage Disposal?
It really just depends in the situation. The problems mentioned above are usually easily repaired, but that isn't always the case. Sometimes the only option you have is replacement. Usually, this is the solution when there is a problem with the motor or the blades. Luckily, garbage disposals are not overpriced and a good replacement model can be as little at $150.
When you have questions, don't hesitate to call your 24 hour plumber in Whittier. Whether you have a garbage disposal leaking, a toilet overflowing, or a kitchen faucet dripping, we have affordable solutions.