Laundry Room Drain Cleaning and Maintenance Tips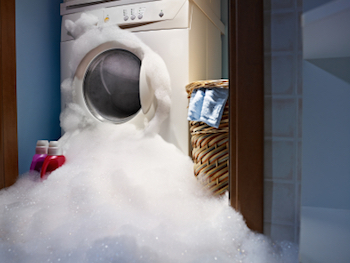 Compared to the kitchen and bathroom, many homeowners neglect the plumbing connected to their laundry machines. Clothes washers can consume dozens of gallons of water for a single load of laundry, which puts considerable demand on connected components, pipes and drains. It's a good idea to follow a few basic maintenance tips and schedule annual drain cleaning to make sure your laundry room plumbing is in good shape.
Maintenance Tips for Laundry Room Plumbing
1. Check the Hoses
The flexible hoses connecting your washing machine to the supply and sewer lines are subject to a lot of pressure, especially in households that frequently use the appliance. You should check these lines and connections several times a year, since the material can fail due to dry rot and normal wear-and-tear.
2. Install Filters
Installing strainers to catch debris before it makes it to the sewer line can help prevent drain clogs, especially in homes with narrow pipes or an older plumbing system. Strainers and filters should be maintained as instructed by the manufacturer or plumber who installed them.
3. Use Machines Efficiently
You can save on utility bills and reduce the pressure on your laundry plumbing by running as few loads as possible. Wait until you can completely fill the machine to make efficient use of the water.
4. Look for Leaks
Leaks aren't always obvious, especially if your laundry machines are set up in a basement with poor visibility. Even a small crack in a pipe behind a wall or beneath the floorboards can lead to substantial damage to the home and increases the risk of mold or pest infestation.
Maintenance and Emergency Assistance from Professional Plumbers
There are a lot of things that can go wrong with your laundry room's plumbing, even if you do your best to keep it running properly. That's why Whittier AAA Rooter & Plumbing Co., encourages our clients in the Whittier area to schedule a complete drain cleaning for their home at least once a year. We use powerful solutions to get your system back into great shape for an affordable price!